Hang Your Rubber Gloves
I fell in love this simple rubber glove organization tip while visiting friends.  Seriously, I had one of those…"why didn't I think of that moments".  I've tried tucking my ugly cleaning gloves in all kinds of places, but I either loose them or they don't dry out.  Problem solved by simply organizing them in the right way!  Love it!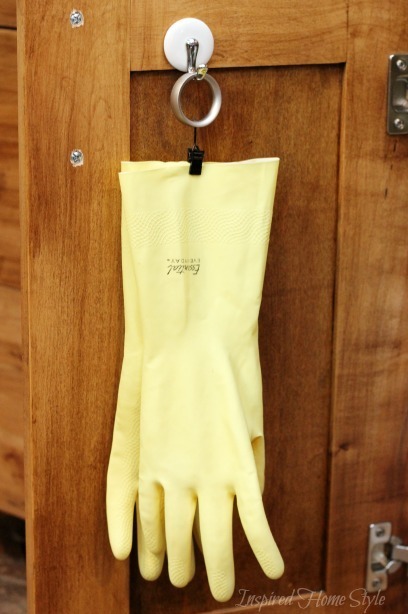 Organizing:
3M's removable Command Adhesive Hooks ~ or any command hook
Shower ring with clip or Binder clip ~ You need something with a hang on the command hook.
Rubber Cleaning gloves
Simply add a command hook to the inside of the cabinet door and attach the shower clip to your gloves.  Thats it!  You will never loose your gloves again.
TIP:  No one wants to put on a pair of wet rubber gloves when it's time to do the dishes or scrub the bathroom.  So next time you peel off those bright yellow gloves hang them up inside a cabinet—open side down, which will prevent water from pooling in the fingertips.
I may have to try this with my dish rag and tea towels as well.  Quick and easy way to help them dry.
Until Next time
Tammy